Hydronic underfloor heating is an energy-efficient and sustainable heating solution and provides your home with comfortable warmth through the winter months.
Hydronic floor heating is a great option for large, open entertaining areas. This system is an attractive and often requested upgrade for a wide range of applications, especially when paired with an efficient condensing natural gas boiler. It works well under several floor surfaces including marble, stone, slate, carpet, timber and a varieties of tiles.
The system can be zoned to ensure low running costs and user flexibility. Our Technical Team will provide you a customised design to suit your needs.
   DUST FREE
"Hydronic floor heating is a radiant heating system that results in low air movement compared with convection systems like ducted heating and air conditioning. This means very low levels of dust movement – a great relief for allergy and asthma sufferers."
   ENERGY EFFICIENCY
"Hydronic floor heating is a very economical way to warm your home, especially when compared to traditional systems such as air conditioning. Hydronic floor heating provides a radiant heat that is especially comfortable compared to convection heating."
   BEST-CLASS WARRANTY
"Our hydronic floor heating systems have the longest available warranties with the piping systems being under warranty for 25 years! A regular service of the system once per year will ensure that you get the most from your hydronic installation. Most people choose to do this as the weather begins to cool."
Hydronic floor heating is a great option for large, open entertaining areas. It works well under cold floor coverings such as marble, stone, slate, polished concrete, and all varieties of tiles. It may also be used under carpet and timber floors. We recommend inquiring with timber manufacturers before the installation, which we can help facilitate.
HYDRONIC UNDER FLOOR HEATING APPLICATIONS
Hydronic underfloor heating is ideal for areas with a combined surface of over 60m2. Lounges and open-plan concepts are perfect for hydronic underfloor heating. Hydronic floor heating is installed in the following systems: in-screed or in-slab for various hard type floorings like tile and concrete and diffusion plates for under battened timber floors.
An in-screed system is a dynamic system that allows the user to make adjustments to the temperature relatively quickly, especially when combined with insulation. An in-slab hydronic floor heating system is a 'set and forget style system. As the pipework is in the slab, it will heat the entire slab and create a thermal mass that holds the heat. This essentially makes it a storage system that holds the heat for a long period of time so even when the system is switched off, it will take time for the heat to dissipate.
Whether you are contemplating a renovation or including hydronic underfloor heating for your new home, below is a guide that will help to determine your ideal installation for your floor covering type.
Building Type
Floor Construction
Floor Covering
Underfloor Heating Type
Electric (Heating Cables)
Hydronic (heating pipes)
In-Slab
In-Screed
Under-Tile
In-Slab
In-Screed
Quick Heat
New Floor Construction
Slab
Tiles
✔
✔
✔
✔
✔
✗
Carpet
✔
✔
✔
✔
✔
✔
Floating Timber
✔
✔
✔
✔
✔
✔
Battened Timber
✗
✔
✗
✗
✔
✔
Lightweight Suspended
Tiles
✗
✔
✔
✗
✔
✗
Carpet
✗
✔
✔
✗
✔
✔
Floating Timber
✗
✔
✔
✗
✔
✔
Battened Timber
✗
✔*
✗
✗
✔*
✔
Existing Floor Structure
Slab
Tiles
✗
✔
✔
✗
✔
✗
Carpet
✗
✔
✔
✗
✗
✔
Floating Timber
✗
✔
✔
✗
✔
✔
Battened Timber
✗
✔
✗
✗
✔
✔
Lightweight Suspended
Tiles
✗
✔
✔
✗
✔
✗
Carpet
✗
✔
✔
✗
✗
✔
Floating Timber
✗
✔
✔
✗
✔
✔
Battened Timber
✗
✔*
✗
✗
✔*
✔
× = not appropriate
√ = appropriate
* The space in between the battens needs to be filled with screed
PE- Xa pipe with EVOH Oxygen Barrier   
X Pipe and Blansol pipes are crossed linked-polyethelyne pipes with EVOH Oxygen Barrier. They are purpose made hydronic heating pipes constructed with an EVOH oxygen barrier outer layer, and adhesive layer and a PE-Xa inner layer. Cross-linked polyethylene pipes are well suited to hydronic heating operations due to their temperature tolerance and flexibility making them easy to install. The Cross-linking gives polyethylene a high resistance to both pressure and temperature.
15 Years Warranty (Highest and Longest in class)
Multiple fittings available and covered under warranty
Multilayer Hydronic Heating Pipe   
Multipex Pipe by Blansol is a multi-layered heating pipe that is designed for use in hydronic heating systems. It consists of a butt-welded aluminium core with an inner and outer layer made of cross linked PE-Xa. The three layers are bonded together with adhesive layers. This combination of materials makes the Blansol Multiplex pipe highly durable, flexible, and resistant to corrosion and chemical damage, It is also capable of handling high temeratures and pressures, making it ideal fo use in a variety of heating applications.
15 Years Warranty (Highest and Longest in class)
Multiple fittings available and covered under warranty
                                                                                                           
Devex Xboiler large of considensing gas boilers are modern, European made devices that offer a range of benefits to the home ownder. Their advanced design and compact size(740 x 400 x 340 mm) make theme suitable for a variety of different locations throughout the home. Thanks to the wide modulation range, the Xboiler is able to heat with relatively low heat demand.
The Xboiler can be connected to a domestic hot water tank with a coil via a 3-way valve (pre-onstalled in the boiler) and controlled with sensor probe.
Xboiler BD 23 power: 3.1- 23.0kW
Xboiler BD 38 power: 4.5- 38.0kW
Barbi Expansion Fittings for PEX pipe   
The Devex Systems supplied Barbi Expansion Fittings are a range of fittings that are specifically designed to work in heating systems. These are made from high-quality materials, such as brass and polypropylene, are designed to provide a reliable and leak-free connection between pipes. Fittings include elbows, tees, joiners and reducers, to accomodatew the specific needs of each heating system. Barbi fittings are easy to install and are compatible with modern heating systems. They are also highly durable and resistant to corrosion, ensuring a long lifespan and optimal performance for the underfloor heating system.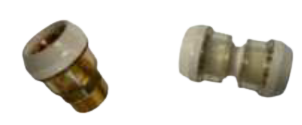 Barbi Push Fittings   
The Devex Systen supplied Barbi Push Fittings are a simple and reliable solution for connecting PEX and multilayer pipes in hydronic heating systems. The fittings feature a unique push-fit design that eliminates the need for special tools or expertise to make secure connections. The fittings are made of high-quality brass and are availble in a range of size to meet specific needs of different applications. With blansol Barbi push fittings, installers can save time and labour costs while ensuring leak-free connections that provide long- performance.
Barbi Press Fittings   
The Devex Systems supplied Barbi Press Fittings are a reliable solution for connecting cross-linked polyethylene and Multilayer pipes in hydronic leating systems. These fittings are made of high-quality materials and are designed to ensure a strong and durable connection. With theireasy and quick installation, Barbi Press Fittings save time and money on installation costs while providing a leak-free and long-lasting solution. Wheter it's for residential or commercial use. Barbi Press Fittings are an excellent choise for any heating project.
Stainless steel manifolds used for controlling water flow in Hydronic floor heating systems. The supply side of manifold comes with or without flowmeters. The return side manifold is equipped with integrated pre-setting valves for easy balancing.
WE WILL HELP YOU CHOOSE THE PERFECT INSTALLATION FOR YOUR PROJECT, CONTACT OUR SPECIALISTS NOW !